Lifetime of Happiness Guarantee - Terms and Conditions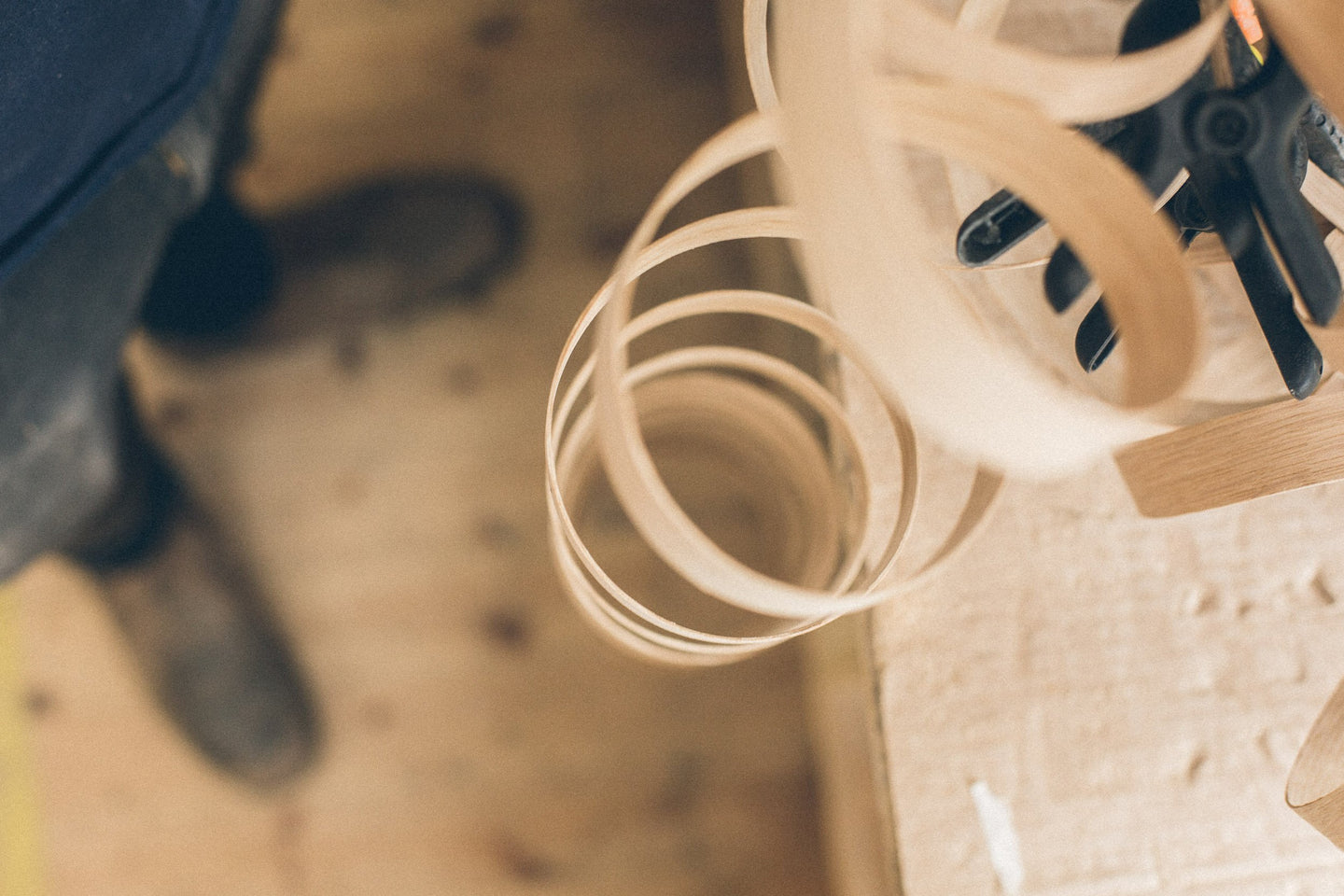 Here at Tom Raffield, we design and make our pieces with the utmost quality and care. We combine traditional crafts with contemporary design and only use the very best materials.
We are proud to guarantee our products for a lifetime, subject to the following conditions: 
Tom Raffield Ltd offers a lifetime guarantee on its own products, ordered directly, either online or over the phone and for domestic users only. This guarantee will apply to all orders placed on or after 1st January 2020 (orders before this are covered by our standard 2 year warranty).
We reserve the right to amend the specification referred to in these guarantee instructions without prior notice. 
1. What is covered?
We will cover genuine manufacturing faults or defects:
That relate to Tom Raffield Ltd product, materials and workmanship. The structure of your piece; in case it moves, warps, bows or cracks more than we'd expect to happen naturally. All hardware such as rivets, wooden plugs etc. This guarantee is granted to the original owner of a new Tom Raffield Ltd product only. This guarantee covers products bought directly from Tom Raffield Ltd only, via our website (www.tomraffield.com) or over the phone. Products used in a normal domestic environment and have been used and maintained in accordance with the user instructions. Unmodified from the purchased specification only.
2. What is not covered?
Our guarantee covers genuine manufacturing faults or defects only and does not cover normal wear and tear. To help clarify what this means, here's a few pointers of things that wouldn't be covered:
2.1 General
General cleaning and maintenance or the replacement of consumables as specified by Tom Raffield Ltd including but not limited to: bulbs and power adapters. Products purchased from other retailers, wholesalers or suppliers where Tom Raffield Ltd cannot control the condition or delivery of the products. Upholstery, bulbs and accessories – our specialist suppliers guarantee these parts of our products, but please contact us in the first instance and we can help solve the issue outside the cover of the Lifetime Guarantee. Seconds, graded or refurbished products. Bespoke or customised products that have been commissioned to a non-standard specification. Products without an original proof of purchase.
A note on timber
It's natural for wood to move a little. You might notice that your handmade piece shifts slightly, and small changes occur. It's just the timber adjusting to the temperature and humidity of your home.
2.2 Damage / Wear and tear
Accidental damage, or anything that you've caused by neglecting your piece or not following our care guide e.g. if the product has been dropped - this type of damage is normally covered by a household contents insurance policy. Normal wear and tear such as scratches, dents, corrosion or colour where the function of the product is unaffected. Any deterioration of the product due to wear and tear including all wooden surfaces and all other externally exposed parts that could be scratched or damaged in normal use. Natural changes, like fading and marks in timber/grain, and colour changes in fabric. Damage caused by theft, tampering, neglect, malice, act of god, misuse, accident, fire, flood, explosion, lightning, storms, frost or other bad weather conditions.
2.3 Usage
Defects caused by use of the product for anything other than its intended use. Product that is subjected to commercial or institutional use. Products that are the subject of a rental agreement. Ex-display pieces. Products that have been assembled or stored incorrectly (e.g. damp or in direct sunlight).Product stored or used in high humidity locations.
2.4 Modifications
Pieces that have been changed/repaired/modified by yourself or a third party. Performance or costs of any modification or adjustments which may be necessary to adapt the product to meet any local technical or safety standards which are applicable in the country in which the product is intended to be operated. Any upgrading / improvement work required as a result of legislation, (Health and Safety or otherwise) or to meet current standards.
2.5 Costs
Any reasonable costs if once inspected no fault is found with the product. Any consequential losses financial or otherwise, or any loss over and above the purchase price of the original item.
3. How can I make a claim? 
Should a product fail due to manufacturing defects in workmanship and/or materials, or a genuine fault, we will do our best to get it sorted as quick as possible. 
Please email our Customer Service team at contact@tomraffield.com (or see our website for further contact details), with a brief description of the fault, quoting the product name, wood type, date of purchase and order number. If covered, you will be guided through our easy 3 step process to get your piece fully functioning again:
Step 1 - Tom Raffield Ltd will supply the relevant parts, materials and instructions to enable self-repair of the piece by the customer.
Step 2 - Where option 1 is not possible – the return of the product to the Tom Raffield workshops in Cornwall, UK, to repair and return to the customer.
Step 3 - Where options 1 and 2 are not possible – we will replace the piece with the same or a suitable equivalent product and we will re-use/recycle the failed product.
4. Terms and Conditions
The warranty period will commence from the date of purchase, for the life of the registered purchaser. The warranty is non-transferable and applies to the original owner.
If you are purchasing something as a gift, or being gifted, please ensure you have a copy of the order confirmation as the end owner.
The customer will be required to provide their original proof of purchase, such as the receipt or order confirmation email. This will be used to validate the date of purchase in respect of any warranty claims.
Warranty cover only applies to new products purchased directly from Tom Raffield Ltd, either online at www.tomraffield.com or over the phone.
The customer may be required to pay any costs of returning product to Tom Raffield Ltd. If Tom Raffield Ltd subsequently confirms that the returned products contain defects attributable to the company, the reasonable costs of delivering any repaired or replaced product back to the customer will be covered by the company. 
Tom Raffield Ltd will not accept or reimburse the costs of any third party who undertakes any work carried out on the product or fits parts, unless Tom Raffield Ltd have approved such work in advance of it being carried out.
All claims under this warranty shall be managed through Tom Raffield Ltd UK.
Tom Raffield Ltd reserve the right to offer a replacement product in lieu of a repair. The replacement may be a new or repaired item. A repaired or replaced product will continue the original warranty period. All defective parts or products, which have been replaced by Tom Raffield Ltd during the warranty period, shall become the property of Tom Raffield Ltd.
The claimant agrees to abide by any reasonable instructions from Tom Raffield Ltd to access the warranty service.
The claimant agrees to provide photographic evidence if required.
The purchaser may have additional rights, under local consumer law. This limited warranty does not affect such rights. This warranty is valid and enforceable globally.
Services performed by Tom Raffield Ltd in rectifying damage or defect caused as a result of any excluded conditions shall be subject to additional charges for labour, transportation and parts.
Tom Raffield Ltd shall have the right, where necessary, to undertake all such action as is reasonable to protect itself against fraudulent or invalid claim(s) including, without limitation, to require further verification as to the identity, and other relevant details of a claimant and/or the verification as to their qualifying purchase.
Tom Raffield Ltd shall not be liable for any interruption to this warranty whether due to force majeure or other factors beyond their control.
Tom Raffield Ltd reserves the right, acting reasonably and in accordance with all relevant legislation and codes of practice, to vary the terms and conditions of this warranty, in whole or part without prior notice or compensation.
These terms and conditions are governed by the laws of England and Wales and come under the exclusive jurisdiction of the English courts.
Tom Raffield Ltd reserve the right to make changes to the warranty conditions and these will be posted to www.tomraffield.com and will take effect immediately.
The decision of Tom Raffield Ltd in respect of this warranty is final.
If we've missed something that applies to your product, don't worry - this is just a guide to help you. Remember, our team of experts consider every case individually. So, get in touch with our friendly Customer Service team and we'll take a look.